12v 200ah AGM Battery lead acid inverter battery & telecommunication stationary
Seller

Min. Order

-

FOB Price

US $145.00-150.00
Item Details
| | |
| --- | --- |
| Place of Origin: | Guangdong China (Mainland) |
| Brand Name: | ESG |
| Model Number: | 12V200AH |
| Usage: | UPS |
| Voltage: | 12v |
| Sealed Type: | Sealed |
| Maintenance Type: | Free |
| Size: | 522*240*218mm |
| Weight: | 59kg |
| Nominal Capacity: | 200AH |
| Application: | UPS,SOLAR,WIND,Off-grid system etc |
| Construction design: | Non-spillable, No memory effect,Low self discharge |
| Feature: | Sealed and Maintenance Free Operation |
| Maintenance Type: | Free |
| Material: | ABS containers & covers |
| Color: | Different Color Available |
| OEM: | Available |
| Certificate: | CE,UL,ISO,CGC etc. |
| Warranty: | 1 ~ 8 years warranty |
| Packing: | Carton , Pallet , or wooden box |
Product Description
Sealed lead acid batteries Applications:
-Solar system and Wind system
-Emergency lighting equipmen
-Fire alarm and security systems
-Telecommunication equipment
-Electric equipment and telemeter equipment
-Light equipment
-Wireless lawn movers vacuum cleaner and washing machine
-Toys and consumer electronics
-Portable power tools measuring and medical equipment Portable video
cameraportable personal computer
-Garden lighting.
Product Description
"ESG" battery are sold well all over the world,especially in Europe,America,Australia,India,Bangladesh etc.,We believe that our modern techniques and reasonable price will be the key to open your local market so that we can achieve win-win. As the core brand is new Sustainable Energy Development, "ESG" embeds "Quality, Loyalty, Service and Development" and enjoys an excellent reputation i -n both domestic and global markets. "ESG" is dedicated to providing the best batteries and services to customers from all parts of the world.
The extremely powerful and reliable Ever Exceed's Deep Cycle batteries perfectly fulfills the requirement for many different applications including telecommunications for many different applications including telecommunications, home medical equipment (HME)/ mobility, industrial and utility applications where frequent deep cycle are required and minimum maintenance is desirable. Our development team combines the market's demand with design optimization, precision component selection and state-of-the-art manufacturing process to produce the most cost-effective battery solution for today's applications.
Applicable operating temperature range: -10°C~+50°C
Ideal operating temperature range: +20°C~ +30°C
Storage time from a fully charged condition: 24 months at 25°C, for each 9°C rise, reduce the storage time by half.
Technology
Parts

Material of construction

Function

Positive plates

Positive plates are plate electrodes of which a grid frame of lead-tin-calcium alloy holds lead dioxides as the active material.

Retain sufficient capacity. Maintain capacity performance for long period of time (long life performance). Minimize self-discharge.

Negative plates

Negative plates are plate electrodes of which a grid frame of lead-tin-calcium alloy holds spongy lead as the active material.

Retain sufficient capacity.
Maintain capacity performance for long period of time (long life performance). Minimize self-discharge.

Separator

The advanced micro porous Absorbed Glass Mat (AGM) or PVC separators retain electrolyte and prevent shorting between positive and negative plates. Separators adopt a non-woven fabric of fine glass fibers, which is chemically stable in the diluted sulfuric acid electrolyte. Being highly porous, separators retain electrolyte for the reaction of active materials in the plates.

Prevents short circuit between positive and negative plates.
Retains electrolyte.
Prevents active material fall by pressing plate surfaces.

Electrolyte

The GEL Electrolyte is used as the medium for conducting ions in the electro-chemical reaction in the battery.

The GEL Electrolyte is used as the medium for conducting ions in the electro-chemical reaction in the battery.

Container & Cover

Materials of the body and cover of the battery case are ABS resins, unless otherwise specified

Accommodates plate group consisting of positive and negative plates and separators.
Retains sufficient mechanical strength to withstand battery internal pressure.

Safety valve

Synthetic rubber with excellent acid resistance and little deterioration by aging. In cap shape. The valve is comprised of a one-way valve made of material such as neoprene.

Releases gas if cell internal pressure rises abnormally high and normalizes internal pressure. Prevents ingress of oxygen.
Solar batteries are an intricate component for off-grid electrical systems such as solar, wind, and mini hydroelectric systems.
All these systems produce DC electrical which must be stored so that it may be used at a later time. In order to do this at the present time we use deep cycle batteries.
Deep cycle batteries are used because they have the ability to be recycled many times. This means that they can go from being charged to being discharged to 50% numerous times without damaging the batteries unlike that of other batteries such as cranking batteries which are used to start vehicles.
The innovative Gel Technology does not only combines the advantages of lower internal resistance of deep cycle battery , but also do have much much better thermal stability and longer cyclic life .
Process & QC
• The battery electrolyte contains fumed silica, and there is no flow, no leakage or no gradation of acid liquor. The battery slot and cover is made of ABS materials through hot seal. There is no risk of leakage during the utilization and transportation, and it is safe and reliable.
• The gel electrolyte is in dilute sol state when being injected. Excessive electrolyte can fill in all the space inside battery. Under circumstance of high-temperature and overcharge, the battery will not dry out. The gel battery has large heat capacity and good radiation performance. It is not easy to appear thermal runaway. The battery can work under severe environment.
• The grid of electrode plate is in radial structure, which is favorable for improving the utilization rate of active materials. Pb-Ca-Sn-Al alloy makes the positive plate have a good performance of corrosion proof and makes the negative plate have a high over-voltage of hydrogen evolution. Unique lead paste formula enables perfect recovery performance of battery recharging after deep discharging. The battery has strong cycle and duration performance, sufficient capacity and long life.
The terminal is in the structure of tin electrodeposited copper terminal, which is favorable for discharging battery with large current and is favorable for the reliability of connection between batteries. The terminal is sealed through fusion welding and second seal of resin sealant, and the seal reliability is high.
Packing & Shipment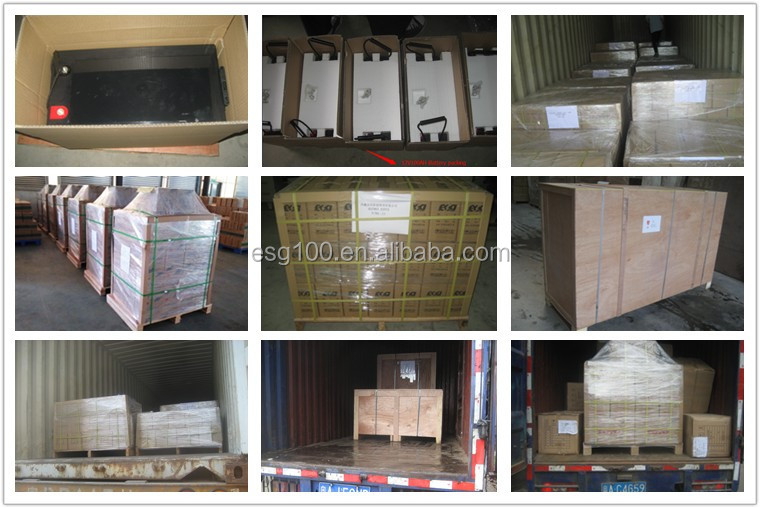 12v 200ah AGM Batter
Company Profile
ESG New Energy Technology Co. Ltd Committed to engage in off-grid system, We are producing batteries, pure sine wave inverter,solar controller , wind and solar power generation system production, We have a production line and scientific quality management system. Development and sales of high-tech enterprises.
Our factory has 29years history, we have 3 brand in China. ESG was established in 2013, a newest brand are specialized in solve green energy project.
Registered Company in HK managed with foreign mentality.
Our China factory shall be the biggest sealed lead acid battery factory in Guangdong province, Foshan City.
Total site over 70000 square meter, construction land over 50000 square meter long.
Total investment value is over USD30 million.
Manufacture full range of three brand sealed lead acid rechargeable battery 2V, 4V, 6V, 8V, 12V series.
We control quality from the material production process of oxidation, plate production, to battery assembly (including in-house plastic case injection& moulding dept).
ESG has in-house advanced Swiss ARL Spectrometer, Chemical Lab, Germany Digatron full set battery-testing Laboratory Equipment& Digatron charge-discharge production system to ensure quality& support R&D.
ESG batteries are honourably recognized by UL and SGS, and also have CE mark.
ISO 9001-2000 And OHSAS 18001 Certified.
Annual sales turn over is over USD100 million.
Annual production capacity is over 20 million pieces and 1 million KVA power.
Certifications
FAQ
1. Q: Does the solar / wind power system installtion Easy ?
A: Very easy, every customer can do in by themselves, we will supply all the components for installtion and very detail installtion manual.

2.Q:Wich model wind power system is suitable for me?
A: Please contact our sales with following points :
1. What appliance do you want to running by the system? How many watts are they and their working time .
2. Your annual wind speed .
3. What kinds of system do you want ? Off-grid solar / wind system
4. Your location altitude.

3.Q:Can I only buy parts not whole system?
A: Yes,for example you can manufacture tower in local , we can supply you tower drawing design.
Any other questions ,please feel free to contact us .
Click here for solar system design